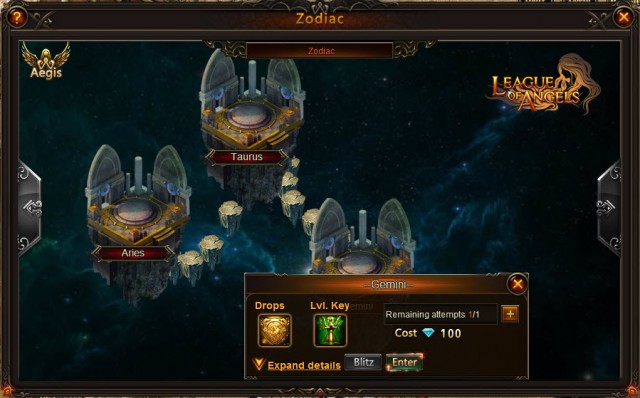 The Zodiac is a series of Single Player Dungeons that have significant importance. Upon clearing each dungeon, you will gain access to a new Aegis. Additionally, the Zodiac is your only source for coveted Aegis Shards. To learn more about the Aegis, check out our Aegis Article.
Instructions
Edit
To access the Zodiac, click the Zodiac button at the top of the screen.

Or the Aegis button on the Angel screen, then select Zodiac Battle.

You start off with the Constellation of Aries, but may unlock others by clearing the latest one like any Dungeon.
To clear a Constellation, you must defeat the final boss.
You may clear each constellation once a day.
Constellations
Edit
Overview of each Level. Visit the page of each for specifics about that board.
Please only add information if you have actually cleared the level
Ad blocker interference detected!
Wikia is a free-to-use site that makes money from advertising. We have a modified experience for viewers using ad blockers

Wikia is not accessible if you've made further modifications. Remove the custom ad blocker rule(s) and the page will load as expected.